Size Guides & Fitting Advice for Customers
Rugs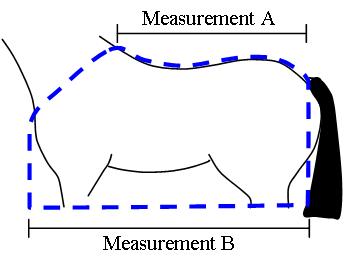 Rugs are like horses, they come in different shapes and sizes. Horses of the same height may vary in rug size depending on breed, age, weight and build. The rug should not restrict movement in any way and should be a comfortable fit.
How to measure for your rug
If you do not have an existing rug to measure, check which size to order by measuring the horse.
UK/USA/Australian sizes are measured at the bottom of the rug (measurement B). The measurement should be taken from the centre of the chest where the front of the rug would be, around the shoulder and on a continuous straight line to the point level with the top of the tail.
European sizes are measured from the top of the horse Withers to Tail (measurement A) this is also usually the measurement used for Excercise Sheets.
Where a depth measurement is stated for a rug, this is taken from the wither to the hem of the rug.
Size/Cm
Measurement A
95
100
105
110
115
120
125
130
135
145
150
155
165
Size/Inches
Measurement B
48″
51″
54″
57″
60″
63″
66″
69″
72″
75″
78″
81″
84″
Size/Feet
Measurement B
4'0″
4'3″
4'6″
4'9″
5'0″
5'3″
5'6″
5'9″
6'0″
6'3″
6'6″
6'9″
7'0″
Hands
11.2
12
12.2
13
13.2
14
14.2
15
15.2
16
16.2
17
17.2
---
Saddles
We recommend that any saddles purchased are checked for fit by a qualified saddle fitter.
Seat size: An approximate seat measurement can be taken from the stud at the side of the pommel to the point of the cantle
Width Fitting: Measure just below the cut back head just above the padding for the knee rolls (d ring to d ring). If you do not have an existing saddle, take a flexi curve and mould it to the horse's withers, them draw around it on a piece of paper and measure.
---
Clothing
Jackets and Tops
| Size | Ladies Size | Gents/Chest Size |
| --- | --- | --- |
| XS | 8 | 32″/34″ |
| Small | 10 | 34″/36″ |
| Medium | 12 | 36″/38″ |
| Large | 14 | 40″/42″ |
| XL | 16 | 42″/44″ |
| XXL | 18 | 44″/46″ |
Jodhpurs
| Inches   | Dress Size |
| --- | --- |
| 24″ | 8 |
| 26″ | 10 |
| 28″ | 12 |
| 30″ | 14 |
| 32″ | 16 |
| 34″ | 18 |
| 36″ | 20 |
---
Riding Hats
| Skull | Imperial | Metric |
| --- | --- | --- |
| 00 | 6 1/8 – 6 1/4 | 50 – 51 cm |
| 00 1/2 | 6 1/4 – 6 3/8 | 51 – 52cm |
| 0 | 6 3/8 – 6 1/2 | 52 – 53cm |
| 0 1/2 | 6 1/2 – 6 5/8 | 53 – 54cm |
| 1 | 6 5/8 – 6 3/4 | 54 – 55cm |
| 1 1/2 | 6 3/4 – 6 7/8 | 55 – 56cm |
| 2 | | |
| 2 1/2 | | |
| 3 | | |
| 3 1/2 | | |
| 4 | | |
| 4 1/2 | | |
| 5 | | |
---
Ladies
| | | | | | | | | | | | | | |
| --- | --- | --- | --- | --- | --- | --- | --- | --- | --- | --- | --- | --- | --- |
| British | 2 | 2.5 | 3 | 3.5 | 4 | 4.5 | 5 | 5.5 | 6 | 6.5 | 7 | 7.5 | 8 |
| European | 34 | 35 | 35.5 | 36 | 37 | 37.5 | 38 | 38.5 | 39 | 39.5 | 40 | 41 | 42 |
| American | 4.5 | 5 | 5.5 | 6 | 6.5 | 7 | 7.5 | 8 | 8.5 | 9 | 9.5 | 10 | 10.5 |
---
Mens
| | | | | | | | | | | | | | | | |
| --- | --- | --- | --- | --- | --- | --- | --- | --- | --- | --- | --- | --- | --- | --- | --- |
| British | 5 | 5.5 | 6 | 6.5 | 7 | 7.5 | 8 | 8.5 | 9 | 9.5 | 10 | 10.5 | 11 | 11.5 | 12 |
| European | 38 | 38.7 | 39.3 | 40 | 40.5 | 41 | 42 | 42.5 | 43 | 44 | 44.5 | 45 | 46 | 46.5 | 47 |
| American | 5.5 | 6 | 6.5 | 7 | 7.5 | 8 | 8.5 | 9 | 9.5 | 10 | 10.5 | 11 | 11.5 | 12 | 12.5 |
---
Girls
| | | | | | | | | | | | | | | | | |
| --- | --- | --- | --- | --- | --- | --- | --- | --- | --- | --- | --- | --- | --- | --- | --- | --- |
| British | 8 | 8.5 | 9 | 9.5 | 10 | 10.5 | 11 | 11.5 | 12 | 12.5 | 13 | 13.5 | 1 | 1.5 | 2 | 2.5 |
| European | 26 | 26.5 | 27 | 27.5 | 28 | 28.5 | 29 | 30 | 30.5 | 31 | 31.5 | 32.2 | 33 | 33.5 | 34 | 35 |
| American | 8.5 | 9 | 9.5 | 10 | 10.5 | 11 | 11.5 | 12 | 13.5 | 13 | 13.5 | 1 | 1.5 | 2 | 2.5 | 3 |
---
Boys
| | | | | | | | | | | | | | | |
| --- | --- | --- | --- | --- | --- | --- | --- | --- | --- | --- | --- | --- | --- | --- |
| British | 11 | 11.5 | 12 | 12.5 | 13 | 13.5 | 1 | 1.5 | 2 | 2.5 | 3 | 3.5 | 4 | 4.5 |
| European | 29 | 29.7 | 30.5 | 31 | 31.5 | 33 | 33.5 | 34 | 34.7 | 35 | 35.5 | 36 | 37 | 37.5 |
| American | 11.5 | 12 | 12.5 | 13 | 13.5 | 1 | 1.5 | 2 | 2.5 | 3 | 3.5 | 4 | 4.5 | 5 |